Toronto Islands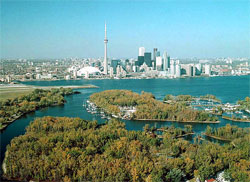 For an hour, lunch or a full day escape, take a ferry to Toronto's urban oasis. With over 600 acres of open spaces, the Toronto Islands make up one of the world's most spectacular urban parks.
From biking, blading and boating to picnics, festivals and special events, the always picturesque Islands offer a full range of activities for all ages. While on the islands, take and Island Tram Tour, run the 10km course, stroll the boardwalk, get lost in the cedar hedge labyrinth, enjoy Centreville Amusement Park and Far Enough Farm with the family, or simply relax on the beach and bask in the sun enjoying stunning skyline views or gentle waves of Lake Ontario.

Toronto Blue Jays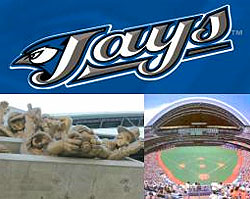 Catch Major League Baseball action at the Rogers Centre with the Toronto Blue Jays. Enjoy field level seating and become part of the game, or relax in your own private box complete with stadium refreshments.
Toronto's Neighbourhoods
~ The World Within a City for Shopping and Dining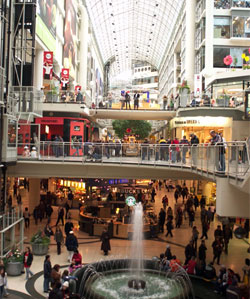 The Toronto Eaton Centre has 285 stores, restaurants and services under its spectacular glass galleria. Located in the heart of downtown Toronto, it's one of Canada's great public spaces.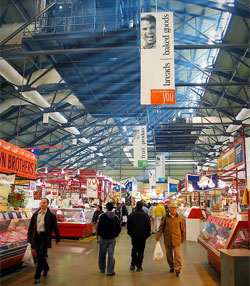 St Lawrence Market is the site of the city's original market. Though popular most of the week, the market comes to life on Saturdays with local farmers, artists and artisans plying their wares. This historic area, affectionately called Old Town, also has numerous old warehouses that have been converted into residences, stores, restaurants and pubs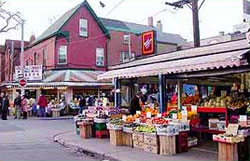 During the 1920s, Kensington Market was known as the Jewish Market. Today, you can sense the city's rich, multicultural mix, obvious in the shops packed with goods from Europe, the Caribbean, the Middle East, South America and Asia. A visit to Kensington is like a sensory trip around the world. It's also a treasure trove of vintage and second hand clothing shops, tucked in among eclectic restaurants and cafés.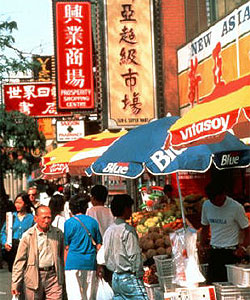 Chinatown's ever-expanding area is home to ethnic Chinese from Hong Kong, Singapore, Taiwan, Vietnam, and elsewhere. A wealth of oriental shops and fruit markets spill out onto the street, and a vast selection of authentic Chinese restaurants feature such delicacies as dim sum.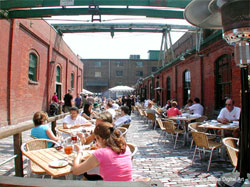 North America's best preserved collection of Victorian industrial architecture is located in this historic enclave in downtown Toronto. Formerly the Gooderham & Worts Distillery founded in 1832, The Distillery has been developed as a centre for arts, culture and entertainment. It is filled with galleries, artist studios and workshops, boutiques, retail stores, restaurants, bars and cafés.
This Toronto hotspot is strictly upper crust. One of Toronto's more elegant shopping and dining areas, Yorkville's designer boutiques, antique shops and galleries are absolutely first-class. The area features a gallery of small courtyards and alleyways, including a contemporary park located in the very heart of the neighbourhood. (Make sure you visit the "Rock", a huge piece of granite trucked hundreds of miles from the Canadian Shield!)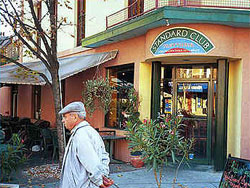 Little Italy's lively neighbourhood (now more Portuguese than Italian) is the spiritual home of Toronto's Italian community, which has for the most part migrated further north. It's packed with trattorias, trendy restaurants and cafés, and a few more traditional poolhalls. Like Greektown, Little India and other cultural meeting spots in Toronto, Little Italy's sidewalks are jammed on weekends – especially in the summer, with locals and visitors alike sipping espressos on outdoor patios. (See also Corso Italia.)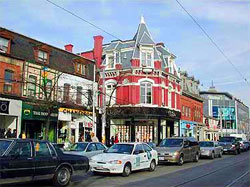 Queen West (a.k.a. Queen West SoHo) is one the city's more popular shopping districts. It features trendy restaurants, cutting-edge fashion, galleries, antique shops and dance clubs. One of the landmarks is the City-TV building, home of MuchMusic and a television studio with many events that spill out onto the street.
Niagara Falls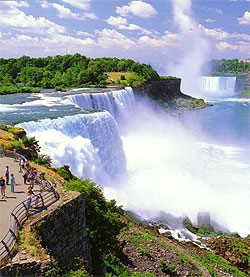 Travel on first-class, washroom-equipped motorcoach for a breathtaking full-day tour through the orchard-laden Niagara Peninsula to Niagara Falls. Upon arriving at Niagara Falls, enjoy a buffet lunch while overlooking the Falls and then it's off to the Maid of the Mist for an exhilarating boat ride to the base of the majestic Horseshoe Falls.
For the adventurous, The Jet Dome Tour provides you all the history, scenery and whitewater excitement of the Niagara River without getting wet or enjoy a birds-eye view with an incredible helicopter flight over the falls.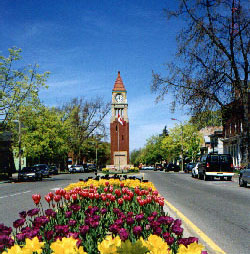 En route back to Toronto, drive through the historic, picturesque community of Niagara-on-the-Lake and sample award-winning estate wines and one of Niagara's picturesque vineyards.