The Fairmont Royal York
100 Front Street West, Toronto, Ontario, M5J 1E3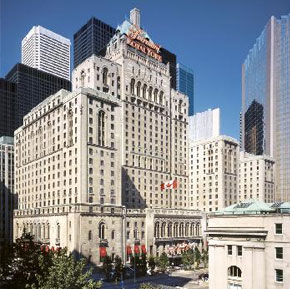 Just steps away from the famous doors in the heart of Canada's largest metropolis is an exciting mix of activities and attractions that will leave you exhilarated. From the theater, entertainment and financial districts, to shopping, sightseeing, and world-class sports facilities, The Fairmont Royal York truly is ''at the centre of it all.''
Whether you're in Toronto for a meeting or simply to relax and take in the sights of the city, this landmark hotel has everything you need. Luxurious surroundings, refined guest rooms and suites, a knowledgeable Concierge, and even a fully-stocked Business Center - The Fairmont Royal York is the ultimate downtown Toronto hotel.
Hotel History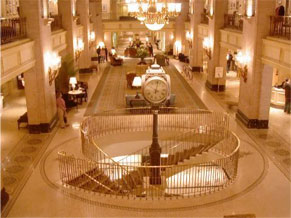 In 1843, Captain Thomas Dick, a respected lake-boat captain, built Ontario Terrace, which consisted of four brick houses. The humble row project was soon thereafter occupied by Knox Theological College. In 1853, the building was refurbished and renamed the Sword's Hotel, and then, following a change of ownership, renamed the Revere Hotel.
Captain Dick bought back the property and renovated it yet again in 1862. The stately Queen's Hotel, as it was then called, became an integral part of the boomtown. It was even rumored to be the site of Sir John A. Macdonald's meeting with American Civil War sympathizers who plotted retaliation.
Years later, the Canadian Pacific Railway announced it would build the largest hotel in the British Commonwealth on the site. Citizens were shocked by the demolition of their beloved Queen's Hotel; nevertheless, construction began in 1927, immediately across from Union Station and Canadian Pacific Railway.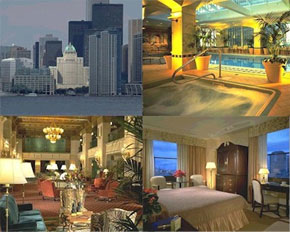 On June 11, 1929, the hotel officially opened as The Royal York. It was the tallest building in the British Commonwealth and quickly set the hospitality standard of the day. The magnificent hotel became known as a city within a city, rising in 28 floors of architectural splendor and replete with mechanical genius and opulence never before seen in Toronto. It boasted 1,048 rooms - each with radios, private showers and bathtubs. The 1.5 acres of public rooms included a 12-bed hospital, 12,000-book library and ten ornate passenger elevators. The Concert Hall featured a full stage and mammoth pipe organ weighing 50 tons, which surpassed anything else in Canada with 300 miles of copper wire. There was a glass-enclosed roof garden, the largest hotel kitchen in Canada with a bakery that could produce over 15,000 French rolls a day, a 66-ft.long switchboard manned by 35 telephone operators, its own bank and golf course (now known as St. George Golf & Country).
Later years saw additional renovations, with a $100 million project from 1988 to 1993 that restored the original elegance with refurbished guestrooms, public spaces, a health club, skylit lap pool and the first-ever American Express Travel Service Centre.
Today, after welcoming more than 40 million guests, The Fairmont Royal York continues to epitomize gracious hospitality. Although the years have brought changes, many features are still intact - the magnificent hand-painted ceilings, the travertine pillars, ornate furnishings, crystal chandeliers and wall hangings. Guests walk where the rich and famous walk: elevator number nine still carries illustrious guests such as Her Majesty Queen Elizabeth II. On the big screen, The Fairmont Royal York, like the Waldorf Astoria, Biltmore and The Plaza in New York before her, has been featured in numerous movies. Guest rooms have taken audiences to Boston, New York, Poland, Vienna and the U.K., without ever leaving Toronto.